I have learned that there are many ways that we can speak out against hate, oppression, social injustice and inequality and act to make our world a better place.
Earlier this year one of our Muslim families at Thurgood Marshall was a target of hate speech on school grounds. We continue to be saddened by this incident and others, but I am proud of the way our school community responded and I'm honored that the Wish Tree project could play such a vibrant role. I want to share this story with you, hoping to inspire other schools and other communities to make their own wish trees! The project was embraced by the students, teachers, staff and our community in ways I couldn't have imagined and I thank each and every person who participated in bringing the work to life. You have touched my life deeply and hopefully those of countless others.
My son and I had been reading Wishtree by Katherine Applegate at the time. This is a lovely story about how a community responds with care and love when the word "leave" is carved into the base of a tree near the home of a Muslim family. Red, a huge oak tree and the local neighborhood's wish tree, bears witness to the profound way in which the symbolic ritual of writing and hanging wishes unites and welcomes all members of their community.
Our Principal, Katie May, responded brilliantly to the incident by inviting the school community to a letter-writing event held one morning before school. Dozens of us gathered with our children to write letters of support to the family. Inspired by Applegate's book, it was at that time that I realized that our school needed a Wish Tree, and I'm so happy that Principal May agreed!
After several days of collecting donations of scrap fabric from individuals and The South Seattle Senior Center, and Pacific Fabrics, I set to work stripping them all to size. (Shout out to Amy Zarrett for helping me early one morning!) My goal was for every student, teacher, parent and community member to have the opportunity to write their own wish to tie to our Wish Tree. Teachers graciously took time out of their day to help students write their wishes. Students tied their wishes to the fences surrounding the school, giving them the opportunity to place their own and read those of others. Upon reading their wishes it is apparent that it is our youth that function as inspiration for us all.
...Wish writing continued for parents, siblings and others at Community Night....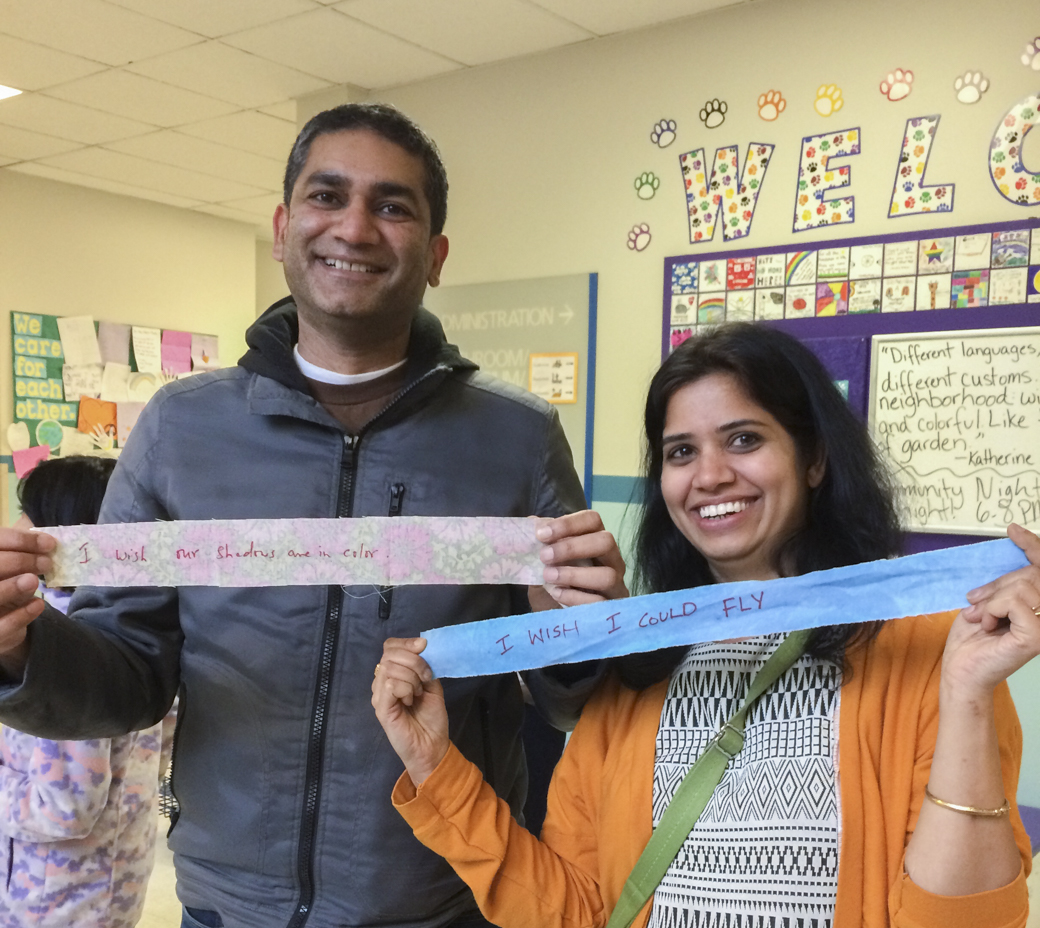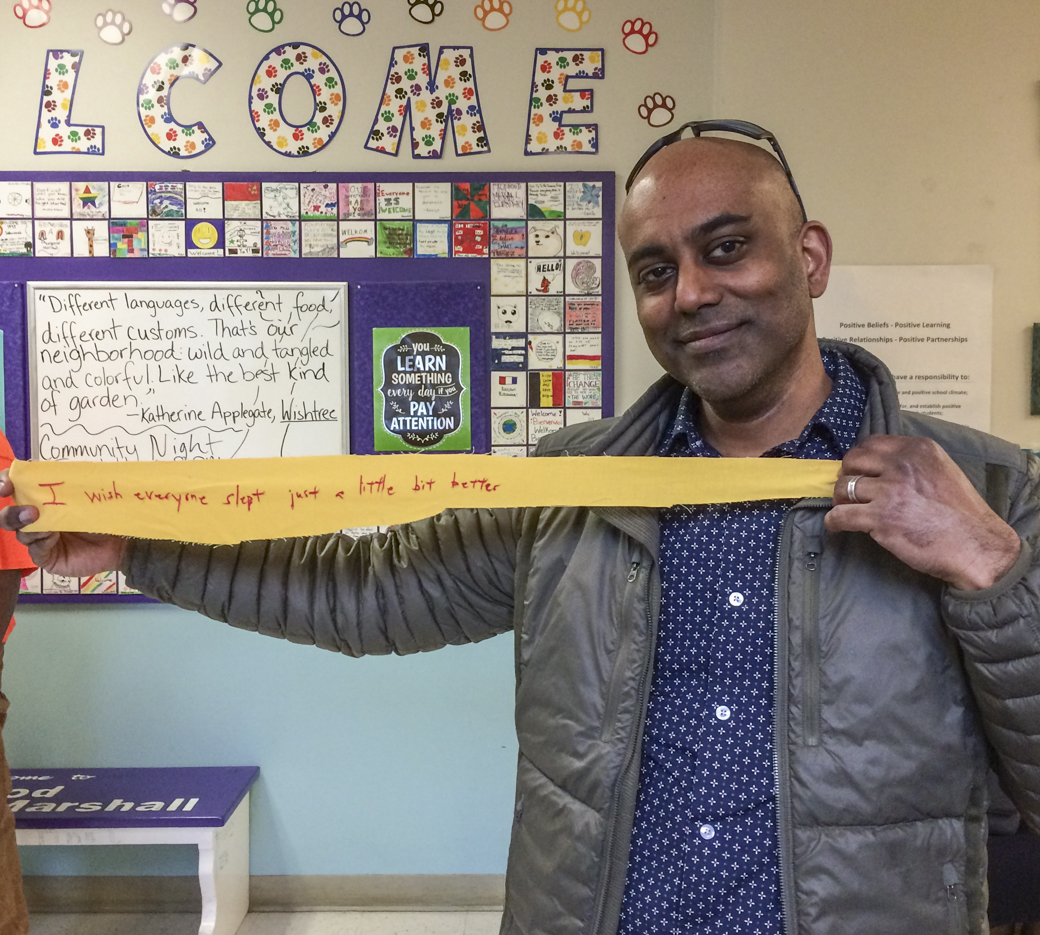 I'm an improviser. I think big, jump in, and leave the planning on the shore. One of the things I loved about this project was the figure-it-out-as-you-go vibe! So, flying by the seat of our pants and not wanting anyone else to risk falling from a ladder, my husband and son helped tie all remaining wishes to our proud tree...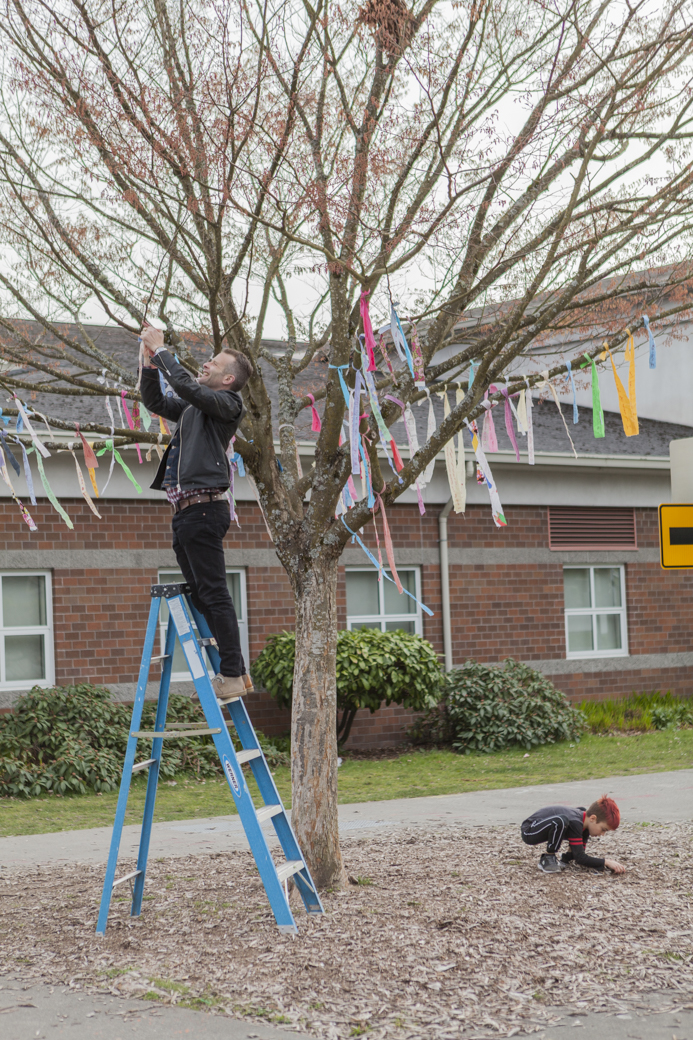 Every classroom in the school ended up reading the book and little did we know, a wonderful surprise was brewing behind the scenes. Ms. Applegate ended up visiting our school! Our kids sat enthralled listening to her speak, asked thoughtful questions and gave insightful answers. Afterward, she visited our playground to read our wishes.
While our Wish Tree project does not purport to have resolved issues on a greater scale, I do believe that our kids have participated in and witnessed a creative way to better our world, little by little. My hope is that they have learned that there are many ways to exude messages of respect and kindness, toward one another and toward themselves.
Now it's your turn....bring a Wish Tree to your community!